Tax Freedom Day in Bulgaria
29th May is the Tax Freedom Day in Bulgaria in 2007. Calculation made by IME show that at this date citizens stop working for the government and start working for themselves.
Tax Freedom Day is the first day of the year in which the government theoretically earned enough income to cover budgetary revenues in 2007. That means, if all production until this day of the year was took by the government at 100%, 29th May would be the first day, in which citizens do not have to pay taxes, and they start to gain only for themselves.
Economists from IME looked through the years, to calculate Tax Freedom Day for each of the last ten years. The results show, that in last decade this day was always in May. Earliest this day was in 2002 – 18th May, and latest in 2000, 2005, 2007- 29th May.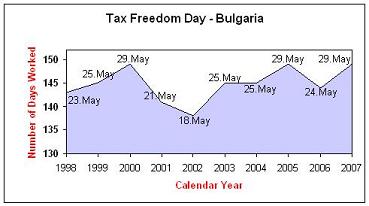 Despite of many reforms and changes made in the course of economic policy, in last years government intervention in the people's life do not reduce. The tax burden has comparatively highest levels, which means that reducing of one tax, was always compensate by another way. Liberation of taxes and tax preferences for certain groups in the society are not equitable, and they reflect directly on other groups in the society, who make up for a deficiency. Repartition processes quickly acquire new forms.
It was found that tax policy of all governments was orientate to the question: "Who will pay?" and the question "How much will be paid?" was not order of the day. Essentially after 2002 taxes has not been reduced. There was a reducing of taxes, but only for certain people, and compensation on other account.
It's interesting, that Tax Freedom Day in Bulgaria in last decade is always around 24th May. In the Day of Bulgarian Enlightenment, people start to work for themselves. This coincidence could show us that may be it is time for us to open our eyes to the true meaning of "free market" and kick out the government far away from the economy. These are our suggestions, how this could happen:
10% PIT % CIT for all citizens.

10% insurance weight

Removing of all tax preferences and relieves.